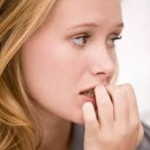 All of us feel worried, stressed and anxious from time-to-time. Anxiety can become problematic if it does not go away or gets worse and then interferes with our day-to-day life. Anxiety disorders are the most common type of mental health problem in the UK and include Generalised Anxiety Disorder (GAD), Panic Disorder, Health Anxiety, Social Anxiety and Phobias including Agoraphobia.
People seeking help for anxiety often describe feeling stressed, worried and tense for much of the time. Physical symptoms of anxiety are common and include shakiness, sweating, rapid heart rate, dizziness, churning stomach and nausea, rapid breathing, difficulty swallowing and others. People often describe difficulty sleeping and concentrating, irritability, restlessness and loss of confidence. In order to reduce the stress and the unpleasant physical symptoms, usually people try to avoid situations that they think might trigger them but over time this can lead to reduced self-confidence and mood.
The main talking therapy treatments for anxiety problems are Guided Self-Help and/or Cognitive Behaviour Therapy (CBT). Counselling is not recommended if your main problem is anxiety.
If you think that you might be experiencing anxiety and would like an assessment and/or therapy from a clinical psychologist or a CBT therapist, Changing Minds can offer you this from locations throughout Hertfordshire and North West London, including Harrow, Watford, Borehamwood and Berkhamsted. We are also able to offer online therapy via Skype.